Chanu Creations, Thangmeiband Lairenhanjaba Leikai, Imphal West, Manipur organized a Recognition of Prior Learning (RPL) certificate distribution ceremony under Pradhan Mantri Kaushal Vikas Yojana (PMKVY) at M/s Padma Handloom Industry at Dakhin Jamuhandal (Gouranagar) in Hojai on Thursday.
Altogether 1269 candidates were awarded certificates at the event.
The programme was attended by Deputy Commissioner of Hojai, Manvendra Pratap Singh as the chief guest while proprietor-CEO of Chanu Creations, a national awardee in 2015 and Nari Shakti Puraskar 2017 awardee Indira Chirom graced as guest of honour.
Speaking on the occasion, DC Singh said, "Handloom weaving is the traditional craft in the northeastern region of India. The northeastern States account for the highest concentration of handlooms in the country."
"This region has been blessed as almost every household can be seen busy in weaving activities," he said while appealing to the candidates that after receiving the awards they should not sit back by holding their certificates.
Singh added, "The skills earned should be used for productive purposes and the weavers could start their own businesses by assembling together in groups even though the Government is providing loans in this regard."
Indira Chirom said, "RPL is a two-day training programme after which an assessment test is taken by the examiner based on which certificates are distributed among the candidates," adding, "The training and the certificate are very important as this gives us an identity as weaver."
Chirom added, "After getting this certificate the candidates can work with any recognised company or even they can start their own manufacturing businesses by joining hands as Self Help Group."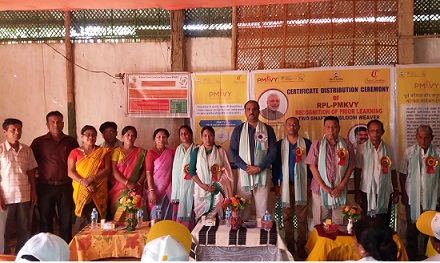 The Ministry of Skill Development and Entrepreneurship (MSDE) launched the Pradhan Mantri Kaushal Vikas Yojana (PMKVY) in 2015.
The objective of the skill certification scheme is to enable a large number of Indian youth to take up industry-relevant skill training that will help them in securing a better livelihood.
Individuals with prior learning experience or skills will also be assessed and certified under the Recognition of Prior Learning (RPL) component of the scheme. RPL mainly focuses on the individuals engaged in unregulated sectors.
Jharna Mazumdar, president, Gaon Panchayat, Dhalpukhri; Khalilur Rahman, member, Anchalik Panchayat, Dhalpukhri; Laisom Golap, president, Manipuri Cultural Society; Durgeswar Deka,Sarkari Gaon Burha, Jamuhandal; Wahengbam Joyshankar Luwang, project manager, Chanu Creations and Narottam Singh, RPL master trainer attended the programme.