The dilapidated condition of a road connecting Rangapara under Sonitpur district with a remote area through Jamunbeel, Colony compelled the people of the area to come out to the street.
The people of the area have been demanding the concerned authorities to turn the road into a concrete one since the independence.
As the local MLA and MP have failed to turn the road into a concrete one for the benefit of the locals, the irate people of the area seeing no other options staged protest on the road on Sunday by planting rice seedlings.
The road is the only connecting road for a number of villages including Jamunbeel, Colony, Forest Gate and Uraliloga. But at the advent of monsoon season, on rainy days the road becomes so muddy that the school and college-going students, patients and other common people, who use it, find it tough to commute.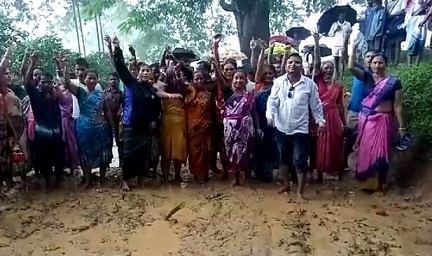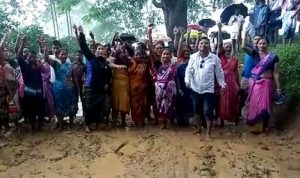 It is very risky for the students and patients to go through the muddy road during rainy days.
The condition of the road is so dilapidated that during rainy season, no vehicle including ambulance can ply on the road.
The agitating villagers alleged that only during election time, the candidates of different political parties promise to concretise the road just to gain the villagers' votes but after winning the polls, the public representative never appears in the area.
The villagers warned the State's PWD minister, MLA and the local MP that if they don't take steps for concretization of the road with immediate effect, then they would boycott the ensuing panchayat polls and the Lok Sabha polls.