The rail blockade staged by Indigenous Students' Forum (ISF) and Indigenous Women Forum (IWF) in Dima Hasao district of Assam has entered its third day on Saturday.
Also read: Assam: Several trains cancelled, short terminated for rail blockade in Dima Hasao
The organizations have been demanding immediate release of compensation of those affected by the broad gauge line conversion in the district.
The protestors are adamant that the blockade will continue until the NF Railway authorities release the compensation amount they have promised them as soon as possible.
The protestors did not even pay heed to a letter by the NF Railway authorities inviting for talks.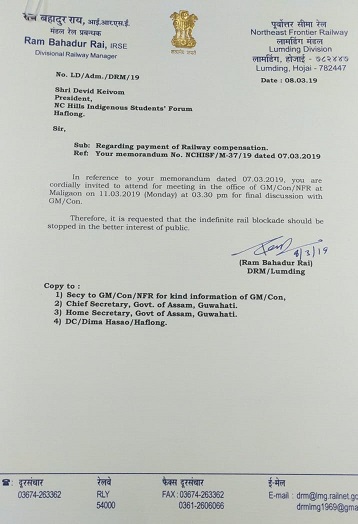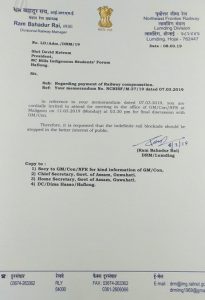 ISF president, David Keivom disclosed that they have received a letter from the Divisional Railway Manager of Lumding division inviting them for a final discussion with General Manager (Construction) NF Railway to be held on Monday next.
However, he said such letters and discussions have taken place number of times in the past and they are not going to fall in the trap again.
He also alleged that these are all delaying tactics of the Railway authorities.
He further alleged that the Railway authorities do not even care about the orders issued by the chief secretary to the Government of Assam.
The ISF president further urged the State Government to intervene into the matter and settle the compensation issue as early as possible adding that the Railway authorities have been dilly dallying the matter for quite some time now.
The ISF president also reiterated that they will continue their peaceful protest until the Railway authorities release their rightful compensation which they have been promised.
Meanwhile, train services in the region has been affected because of the ongoing rail blockade.