The Silver Jubilee celebration of Prerona Pratibandhi Shishu Bikash Kendra at Jorhat on Saturday was the celebration of the fulfillment of a woman's single-handed struggle to enable a life of dignity for her spastic son.
In the 25 years since Sayera Rahman embarked on this journey, she has touched the lives of more than 10000 specially-abled children directly or indirectly.
Saturday's programme comprised a group of these children immersed in drawing and colouring whatever their imaginations dictated under the supervision of members of Dikh, a socio-welfare organisation here.
The artists in Dikh were also engrossed in painting three pictures – one portraying the specially-abled children in the school, the other depicting inclusive education and the third empowerment of women and children. Under an awning sat parents whose children were still enrolled in the special school and those who were there from the beginning.
Some of the participants also came from other districts and each relived the memories, some harrowing, some happy at the challenges they and their children had faced.
From the stage Aditi Bezbaruah, a founder member of the Society and teacher at Jorhat Engineering College narrated how Sayera had managed to get herself trained in Calcutta so that she could teach and take care of her son and inspiration (Prerona), Zafri and the support she had received from her husband Anowar.
The next step was bringing in children from the villages after the school was set up on June 27, 1992. She further said, "God had given many parents blue children, these children are rare and should be looked after with love and care and not considered as burdens."
Earlier, Sashi Prabha Borgohain, Principal of Jonaki Sangha Vidyalay and a founder member had narrated how they had bought the land adjoining Rahman's house after holding a raffle and from a small bamboo room the place had expanded to several concrete buildings, one of them is double-storeyed.
Rahman said that both the activities and infrastructure had multiplied manifold.
The special school has opened its doors to normal children two years ago in a bid to provide inclusive education and offers a class ten course under National Institute of Open Schooling.
Prerona is now the nodal agency for Assam and Arunachal Pradesh of the Ministry of Social Justice and Empowerment ( National Trust) since last year.
The activities also include community based rehabilitation where a catchment area is identified, a survey conducted and early intervention given and children made ready for school.
Apart from these, Prerona offers vocational training has established self help groups to enable self employment at Dergaon and Kuralguri with the help of Numaligarh Refinery Limited which has sponsored the incense making equipment and computers.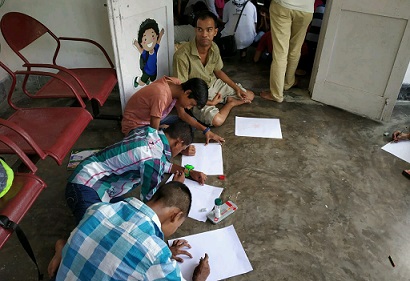 It also serves as the District Disability Rehab Centre where identification, therapeutic services information, aids and appliances distributed, assessment for cards is done.
Prerona also undertakes home management of differently able children and some are even kept temporarily in a hostel when parents face difficulty in keeping them at home.
The place also has a Childline office and is a One Stop Centre for destitute and abused women on need of legal services or rehabilitation.
Speaker of the Assam Legislative Assembly Hitendra Nath Goswami, who addressed the open session in the afternoon in response to a plea for aid from president of the Society Jayanta Bezbaruah, assured them of giving all help and support if the need arose.
He also released the souvenir, Rupa like Prabax, on the occasion.
In the evening, the cultural function by children and others was dedicated to Bhupen Hazarika, today being his birth anniversary