In conjunction with the Prakash Utsav, the celebration of 549th year of Sikhism and to install Sri Guru Granth Sahib, the Gurudwara Singh Sabha, Haflong on Sunday organized a day long programme in the headquarter of Dima Hasao district of Assam.
The day long programme started with morning nagar kirtan (rally) taken out from Gurudwara, Haflong in the main street of the Haflong.
Later a meeting was held which was graced by the 16 (ST) Haflong MLA B B Hagjer along with chairman of Haflong Town Committee Anil kr Daulagupu, NCHAC deputy chairman Him Bh Chetri, Additional Deputy Commissioner Vikram Dev Sharma, president of All Apex Body Committee Kailen Daulagupu, 22 sector Assam Rifles Dy C/O Hardesh Kumar and Om Dutt Sharma apart from members of Lanka Gurudwara committee Gurmeet Singh, Nar Singh and Baljit Singh who were felicitated with 'saropa' the highest honour of Sikhs.
Later Nirmal Singh of Gurudwara Singh Sabha, Haflong gave the welcome speech highlighting the celebration of the 'Prakash Utsav'.
He also gave an insight of the establishment of the Gurudwara in the year 2000 and on history of Sikhs living in the district since post independence.
MLA Hagjer addressing the gathering briefed on history of the Sikhs in the district with least population in the post independence which till today left a souvenir in the form of 'Limit Bungalow' (known as NCHAC Guest House today) and others.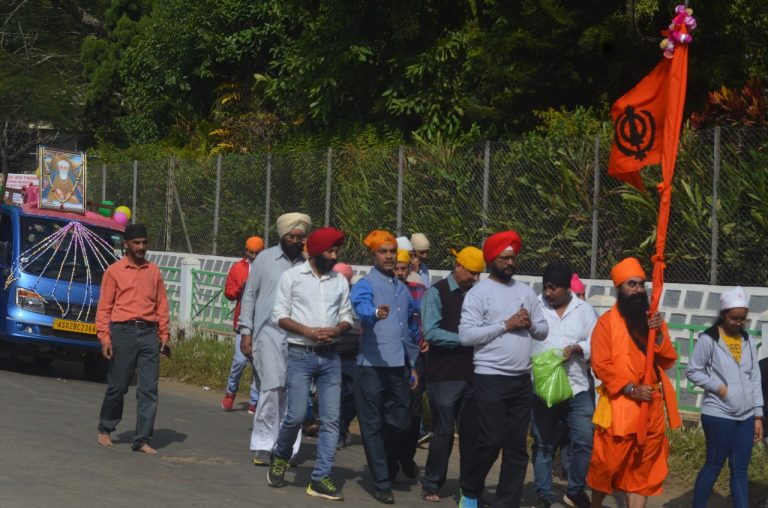 He also said that Sikh community has always been contributing to the society in the field of humanity and easily assimilated with any community both in India and other part of the world such as Canada, Australia to mention few.
He also wishes his gratitude to the Sikh community and prayed for their success in every sectors.
Speaking on the occasion All Apex Body president Kailen Daulagupu put forward that the Sikh community to be a part in the All Apex Body Coordination of Dima Hasao dist.
The Gurudwara committee also submitted a memorandum to MLA B B Hagjer urging for common community facility centre for education and for skill development in the existing structure and for financial assistance for a common community facility centre infrastructure in view to serve the community in general with education, skill development training and to create self employment among other under various scheme.
On the day guru ka langar (free kitchen) was also served to the devotees where hundreds of people from all communities including personal from 22 Sector HQ and 43 Assam Rifle were present.