The Hajaichak Camp of 43 Assam Rifles in Dima Hasao as part of the 72nd Independence Day celebrations organised a lecture on women empowerment at Hajaichak.
A total of 134 villagers including young boys and girls and five teachers from Garlen English School and Hindu School, Hajaichak participated in the the lecture with zeal and enthusiasm.
The overall aim of the lecture was to spread awareness among the women of the village to understand the numerous career options as also possibilities for growth and development to contribute as a meaningful citizen of our great nation.
Two animated videos were also screened to showcase how women can evolve from the most humble background to be a success story.
Various short stories of successful women of India like Hima Das, Indira Gandhi, Kalpana Chawla, Flying Officer Avani Chaturvedi, Mother Teresa, etc. were discussed.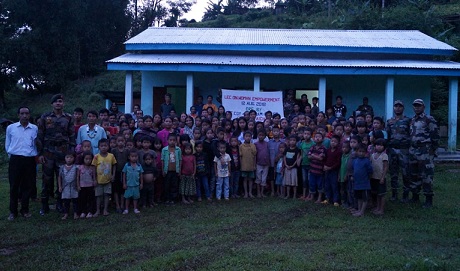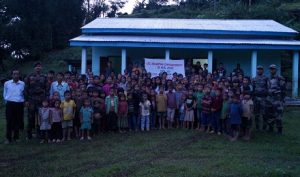 The option of small-scale industries which could be started with minimal expenditure and available expertise were also discussed on the occasion.
The possibilities of growth with upcoming ginger and turmeric plant in the village was explained in detail and the villagers welcomed the initiative with loud applauds.
The lecture culminated with a group photograph and refreshments.
The Gaon Burha, secretary, Mahila Samity Hajaichak, teachers and the villagers expressed their heartfelt gratitude towards 43 Assam Rifles and requested for more such events in the near future.