Students of Uttar Bidyanagar L P School in Hojai district of Assam received new slippers from Rhino Social Welfare Organization on Monday.
These slippers were distributed to around 144 students at a meeting organized in the Uttar Bidyanagar L P School campus, which was chaired by Manoj Das, president, Rhino Social Welfare Organization.
Pankaj Deka, Additional Deputy Commissioner, Hojai district graced the occasion as the chief guest, while Tapan Kar, principal, Sankardev Junior College, Jiten Deka, Jugijaan block elementary education officer, Babul Saha, social worker, Rubi Chakraborty, principal, Uttar Bidya Nagar L P School, educationist Pradip Bagchi and Jayanto Choudhary, Jugijaan EEO  were present as Guests.
In the beginning floral tribute was paid to music maestro Dr Bhupen Hazarika on his death anniversary.
Manoj Das, president of Rhino Social Welfare Organization explained in brief the objective of this programme.
He said," The idea to refurbish discarded footwear, turning them into something trendy and distribute them to the needy kids for free, once came in mind. So I discussed it with my friends, they said we are with you go ahead with the idea."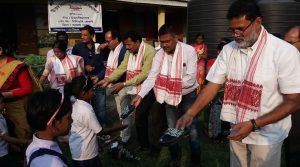 He further said, "But question was how it was possible to implement? I decided to search over internet. While searching I came to know about Green Sole, a Mumbai-based company which has come up with an initiative under which it refurbishes old footwear into new and then supplies them to the needy children."
"Greensole was set up in 2013 by two athletes, Shriyan Bhandari and Ramesh Dhami," Das informed.
He asserted that, "For this we have tied up with Green Sole, Our main aim is to spread smile but it is only possible by everyone's participation in this noble cause, this is our first programme and 144 students will be provided slippers here."
He also said that one pair of slippers costs Rs 199, and 'anyone can sponsor us'.
Speaking on the occasion, ADC Pankaj Deka lauded the initiative taken by Rhino Social Welfare Organization.
He said in urban areas this type of initiative can be seen, but in rural areas no one comes forward for its uplift.
He termed it as an exemplary work for the society and for the betterment of needy ones.
Other guests also spoke on this occasion and while praising the NGO promised to join in their mission.