Assam Congress observed 'betrayal day' across the State on Wednesday in protest against the Bharatiya Janata Party-led Central Government's failure to control hike in prices of petrol, diesel, gas cylinder and essential commodities.
As a part of the statewide protest, Guwahati district Congress activists also staged a protest demonstration in front of the Meghdoot Bhawan in the city.
Talking to Northeast Now, former Assam education minister and senior Congress leader Sarat Borkotoky, who also joined the protest programme, said, "Prime Minister Narendra Modi is a liar. It would be better to remove him from the Prime Minister's chair as early as possible."
Congress leader Bobbeeta Sharma joined the protest programme by wearing garland of vegetables including onions and brinjal.
Interestingly, BJP's Guwahati MP Bijoya Chakravarty also joined a similar protest wearing a garland of onions in protest against the hike in fuel and essential commodities during the Congress rule in the State.
Bringing allegations against the Centre, Bobbeeta Sharma said, "The present BJP-led Central Government has done everything opposite to the promises made by the ruling party before the 2014 Lok Sabha elections."
Joining the protest at Guwahati, former social welfare minister and senior Congress leader Akon Bora said, "The people of the country have not witnessed anything positive change till date after the BJP came into power."
In Biswanath district, the Biswanath District Congress Committee led by Assam Pradesh Congress Committee (APCC) president Ripun Bora also staged protest demonstration against the hike in petrol and diesel prices.
Bringing allegations against Prime Minister Narendra Modi, Ripun Bora said, "The BJP-led Central Government has failed to fulfil the promises made before 2014 Lok Sabha elections. The Government has not only failed to provide jobs to the unemployed educated youth of the country but also has failed to bring back 'black money' and curb corruption."
The protestors also submitted memorandums – addressed to the President and Assam Governor – to the Biswanath Deputy Commissioner.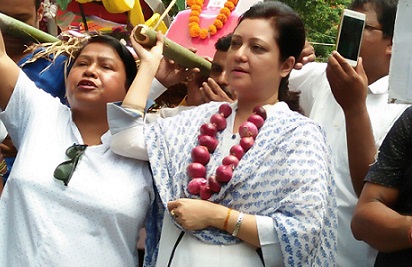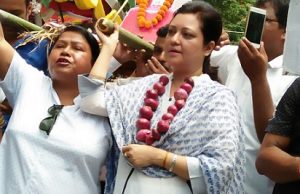 APCC general secretary Brajen Handique, Premlal Ganju, Biswanath district Congress president Dilip Barua, APCC spokesperson Sanju Barua along with a large number of Congress activists joined the protest.
In Majuli also, the Majuli District Congress Committee activists staged protest against price rise.
Meanwhile, the protestors in Barpeta district displayed placards and banners during the protest against the Central Government's failure to cut price hike.
Congress' Sarukhetri MLA Jakir Hussain Sikder, former MLA Abdur Rahim Khan, Barpeta district Congress president Shantanu Sarma, district Congress general secretary Aftab Uddin Khan and district Mahila Congress president Anjuwara Begum joined the protest programme.
The protestors across the State shouted slogans like 'BJP Government Go Back', 'BJP Government Husiar', 'BJP Hatao Desh Basao', etc. during the protest.