Budlapara Tea Garden clinched the champions trophy in the final game of the 1st Adivasi Abba Justin Lakra Memorial Football Tournament defeating Mazbat Massal Club by 4-2 goals here at
Hatigarh Tea Garden playground in Udalguri on Monday.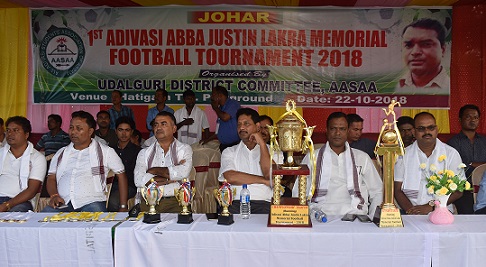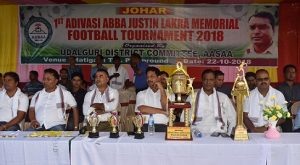 The event, organized by the Udalguri District Committee All Adivasi Students' Association of Assam (AASAA), was attended as chief guest by State Cabinet Minister Rihon Daimari.
Speaking on the occasion, Daimari reiterated the supreme sacrifice of Justin Lakra for the welfare of the Adivasi community.
He exhorted the young generation to hone their
skills and outshine in sports activities.
The inaugural ceremony was attended by Rajya Sabha
MP, Santiuse Kujur, BTC Speaker, Tridip Daimary and Deputy Speaker Nerswn Boro, BTC EM, Jagadish Sarkar,
Nonaiserfang, BTC constituency, MCLA, Suresh Tanti;
AASAA, president, Pradeep Nag, among a host of AASAA activists.