At a time when most of the political parties and organisations across Assam have demanded publication of an error-free National Register of Citizens (NRC) on the basis of the historic Assam Accord for the greater interest of the indigenous people of the State, the process of which is being carried out under the Supreme Court's supervision, an online campaign – 'India: Stop Deleting Muslims!' – against the publication of the NRC was launched by 'Avaaz- The World in Action' (secure.avaaz.org), a global campaign network on July 2, 2018.
In the petition, Avaaz alleged that the publication of final draft of NRC would lead to mass violence in Assam and transfer of minority Muslims to prison camps for life.
Talking to Northeast Now on Monday evening in the matter, NRC State co-ordinator Prateek Hajela refuted the allegations made by 'Avaaz- The World in Action' in the petition.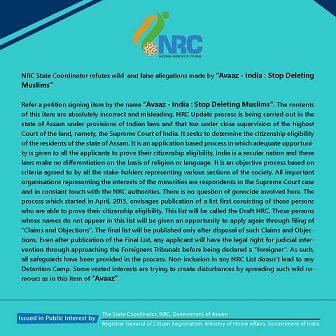 'Avaaz', in the petition, urged the United Nations and India's trade partners to speak against the NRC, the final draft of which is scheduled to be published on July 30, 2018.
Hajela said, "The contents of the petition are absolutely incorrect and misleading. Some vested interests are trying to create disturbances by spreading such wild rumours as in this item of 'Avaaz'. There is no question of genocide."
Avaaz is a global web movement to bring people-powered politics to decision-making everywhere. The Avaaz community campaigns in 15 languages, served by a core team on 6 continents and thousands of volunteers.