Two teenagers from Lakhimpur were presented the Jeevan Raksha Padak, a national civilian award, for their exemplary valour in rescuing and saving a child under extreme natural conditions by ignoring their own safety.
Manoj Chautal (17), son of Chunu and Birchi Chautal of Machkhowa under Ghilamora Revenue Circle and Raju Garh, son of Tapan and Lily Garh of Mazgaon, Ghilamora were presented the civilian lifesaving award at a function held in the auditorium of District Library, North Lakhimpur.
The award presentation event was chaired by Dr. Jeevan B, deputy commissioner, Lakhimpur.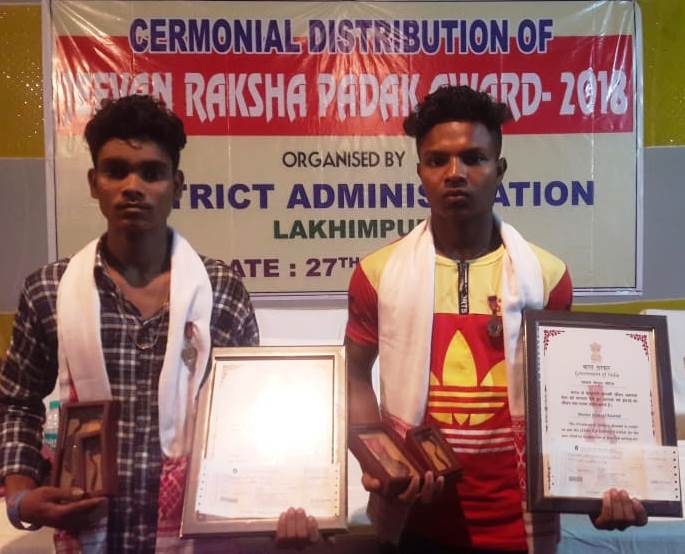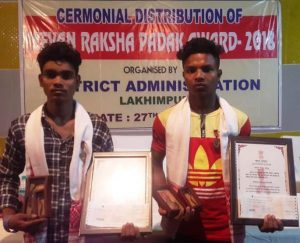 Eminent academician Dr. Mukunda Rajbangshi and principal of North Lakhimpur College, Dr. B.C. Chetia attended the award function as invited guests.
The Jeevan Raksha Padak is a civilian lifesaving award presented by the Government of India.
Established on September 30, 1961, the award was originally called as Jeevan Raksha Padak, Class II.
It is awarded to civilians who save lives from drowning, fire or mine accidents.
It is awarded for "courage and promptitude in saving life under circumstances of grave bodily injury to the rescuer".
The teenagers were presented the award in recognition to their courage in saving a child – Abinash Chinte, son of Mukut and Sumita Chinte – who was swept away by the flood waters of Jiyadhal-Na-Nadi river on June 5, 2018.
Lakhimpur DC also presented cheques for Rs. 1 lakh to the boys along with the medals in the ceremony.
District development commissioner Reena Mech and additional commissioner Devashish Goswami were also present in the meeting.