The impasse at the prestigious North Eastern Regional Institute of Science and Technology (NERIST) at Nirjuli in Arunachal Pradesh continued for the fourth day on Friday with the students intensifying their agitation.
Earlier on Thursday, one computer engineer student, Kipa Tacha began his fast unto death, which was later joined by seven other students: Ige Riram, Karlu Lollen, Dikkar Taji, Rakesh Roy, Rupam Khargharia, John Tamin and Taw Hari Tara.
Toughening its movement, the Students' Union of NERIST (SUN) also observed 'back day' on Thursday denouncing the ceremonial flag-off of Arunachal Express by Minister of State for Home Affairs Kiren Rijiju who hails from Arunachal Pradesh and Minister of State (Independent Charge) Railways, Rajen Gohain.
The protestors wore black clothes and bands which read #save NERIST.
Also read: Academic activities come to standstill at Arunachal's NERIST
Hundreds of students chanted slogans in different languages of the region against the Ministry of Human Resource Development and MoS Rijiju for their 'false promises'.
The students also vented their anger on Rijiju stating that if he was genuinely concerned why he did not visit the campus during his visit for the inauguration of Arunachal Express.
SUN president Banta Natung said they will continue with their protest until the HRD Ministry intervenes into the matter, adding, "If anything happens to the agitating students, Rijiju will be held responsible."
This he said while addressing the media at the institute campus where he is leading the agitation demanding a permanent director for the premier institute for the last four years.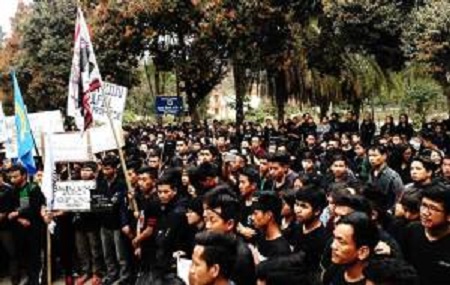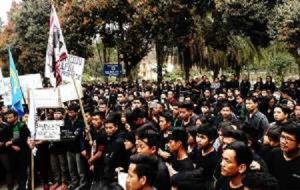 Meanwhile, expressing solidarity to the agitation, the All Arunachal Pradesh Students' Union (AAPSU) has warned both the Central and the State Governments of adverse consequences if the issue is not addressed urgently.
Addressing a solidarity rally, organised by the Rajiv Gandhi University Students Union (RGUSU) at the RGU campus, AAPSU general secretary Tobom Dai asserted that the Centre should heed to the genuine demand of the SUN.
Meanwhile, Kiren Rijiju has blamed the Ministry of Human Resource Development for the present chaotic situation in the NERIST campus.
"I am not the HRD minister, but I take full responsibility as it is a matter of my constituency" he told media persons at the side-lines of the flagging-off ceremony of Arunachal Express at the Naharlagun Railway Station of the State on Thursday.
He also said despite his rigorous pursuance for the last two years, the Ministry of Human Resource Development is delaying the process.