The Arunachal Pradesh government will consult all the community-based organizations and other stakeholders before finalizing the Budget for the financial year 2018-19, which will be tabled in the Legislative Assembly in its session scheduled from March 9 to 16.
With a view to invite suggestions and inputs from the common citizens, State Chief Minister Pema Khandu and Deputy Chief Minister Chowna Mein, who also holds the Finance portfolio, have launched an interactive website of the Finance Department: www.arunachalbudget.in, which contains infographics on Budget 2017-18.
The main objective of the website is to facilitate participation of the common citizens in preparation of a wholesome budget for the next financial year.
In order to encourage people's participation, the State Government is offering cash prizes for the three best suggestions or inputs.
While the best suggestion will earn a cash prize of Rs 50,000, the second and third best suggestions will earn Rs 30,000 and Rs 20,000 respectively.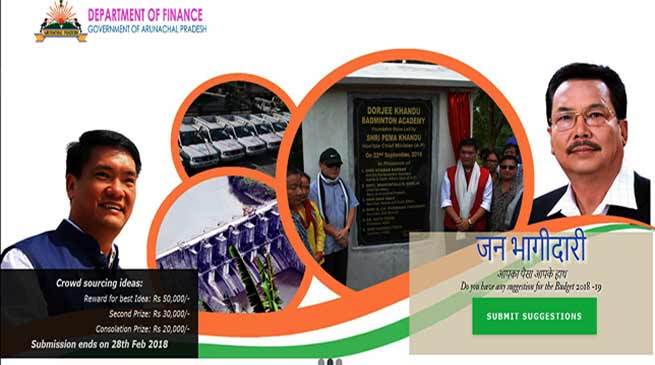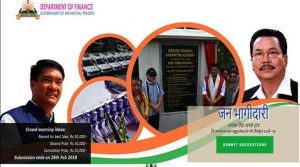 This decision was made during a meeting between Khandu and his deputy Mein on Saturday to review the proposals and allocations to be included in the Budget.
The meeting also discussed various inputs received through the series of pre-Budget consultative meetings held by the Finance Minister and the Finance Commissioner at various forums and levels.
Launching the website, Khandu said it is for the first time in the State's history that the common citizens are being given an opportunity to shape and write the annual Budget for the State.
"We are committed to take Arunachal forward, and each and every citizen of the State is a member of Team Arunachal who has the right to shape the future of Arunachal Pradesh," he said.
Khandu also appealed to all, especially those with experience and knowledge, to submit their suggestions online through the portal and become contributors in shaping the roadmap for the development of the State and the Government.
Chief Secretary Satya Gopal, Finance Commissioner Ashish Kundra, Secretary to the Chief Minister Sonam Chombay and officers of the Finance and Planning Departments were present in the meeting.