Altogether twenty students and two teachers selected from Baksa & Barpeta districts embarked on a 10-day National Integration Tour to Delhi & Jaipur organised by the Red Horns Division of the Indian Army. The tour was flagged off by General Officer Commanding, Red Horns Division on Friday at Rangiya.
"We are going to fly to Delhi and meet the President of India," Hriday Kalita, a student of class IX at Dakshin Bijni Adarsha Vidyapith Higher Secondary School, Baksa whose father works as a casual labourer said.
The tour is aimed at offering the students a unique opportunity to learn about the culture, heritage and developmental strides made by the country in various fields. The tour includes visit to places of historical and tourist interests like the Rashtrapati Bhawan, Red Fort, Science and Rail Museums in Delhi and Hawa Mahal at Jaipur.   The children and parents also expressed their gratitude for the wonderful opportunity given to them.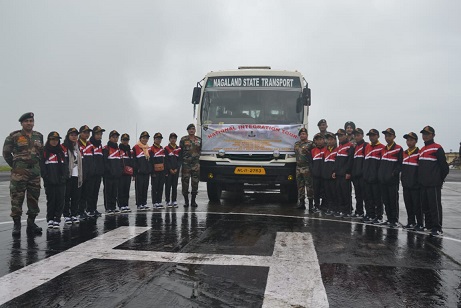 Meanwhile, the Tuensang battalion of Assam Rifles under the aegis of Inspector General of Assam Rifles (North) flagged off an educational and motivational tour for 15 students and two teachers from Tuensang district in Nagaland on Friday.
The tour was flagged off by Brigadier SK Sheoran, Deputy Inspector General, 7 Sector Assam Rifles.
The tour is being conducted as part of the Assam Rifles' initiative towards fostering the spirit of national integration.
The one-week itinerary includes visits to various cultural and historical places in Guwahati and Shillong as well as an interaction programme with the governor of Meghalaya and director general of Assam Rifles.