Chalo Paltai ! Chalo Paltai ! – BJP national president Amit Shah asks people of Tripura to chant the slogan on Sunday. Chalo Paltai is a Bengali term which in English means let's change. BJP has coined this slogan for poll-bound Tripura. And Amit Shah said a regime change in Left-ruled Tripura has become inevitable as the incumbent government has failed on many fronts.
Addressing a public rallies at Ambasa and Kulai in the poll-bound Tripura, Shah said that he had seen a lack of development and instances of corruption in the states ruled either by the Congress or the Communists and claimed that the BJP-ruled states were ahead of those states in terms of development and being corruption-free.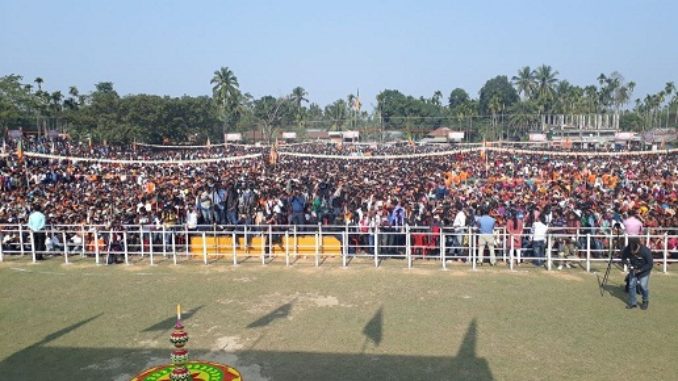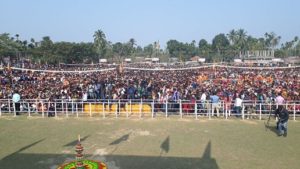 Amit Shah accused the Left Front government of Manik Sarkar in Tripura of "misrule", alleging that the situation in the state had gone from bad to worse and asked the people to vote for the BJP in the upcoming elections to bring about a change in their lives.
"Seeing the huge gathering here, I can realise that the change has become inevitable in this State. The rate of crimes against women is very high, the rule of law does not exist. Crime has become synonymous with the CPI-M rule," he said.
"The BJP does not want a change for the sake of it… it wants a change to bring about a qualitative change in governance so that the condition of the lives of people improve," he added.
The BJP chief is on a two-day visit to Tripura, where the Assembly polls are due as the term of the current House is scheduled to come to an end on March 6.
Tripura, along with two other Northeastern states – Nagaland and Meghalaya – are heading for Assembly elections in March. While Tripura has been under Left rule since 1993, Nagaland has the Naga People's Front (NPF) – a BJP ally – in office for the past 15 years. In Meghalaya, on the other hand, the Congress is heading a government with the support of Independents.
Shah promised that the BJP would provide salary based on the 7th Pay Commission recommendations to government employees and double the minimum daily wage for workers in Tripura if voted to power.