The war of words between the All India United Democratic Front (AIUDF) supremo, Badruddin Ajmal, and Assam's powerful minister Himanta Biswa Sarma, seems to have entered, round one, as the panchayat poll in the State is round the corner.
If reported remarks by State's Finance Minister Himanta Biswa Sarma on Badruddin Ajmal that the latter would become the next Chief Minister of Assam if BJP is voted out of power stirred up the hornets nest, Ajmal's statement of supporting Himanta as CM, if he leaves BJP, has made all and sundry's mouth wide open.
Ajmal made this statement during a panchayat election rally held near Banskandi in Assam's Cachar district on Wednesday.
On his three-day visit for panchayat election campaign in the Barak Valley, Ajmal made his first stopover at Uzantarapur of Banskandi, stepping out in style from a helicopter, reminiscent of a Bollywood movie scene, as young and the old, made a beeline to watch this, rather, anxious to hear what he had to say.
The rally which had around 500 people present, out here, did not please Ajmal, either, who though, introducing his party candidates before the curious onlookers, did not stop from cautioning the crowd to be careful from voting the BJP, as he believes "it is a party that is harmful not just for the region and the State of Assam, but the country as a whole".
In his address to the crowd, Ajmal said, "BJP party is an enemy of our religion (Islam). Not just for us, this party is harmful for this country. They want to make India as a Hindu nation and drive us out of this country. If all this is not enough, they want to change the constitution of India for their vested interest."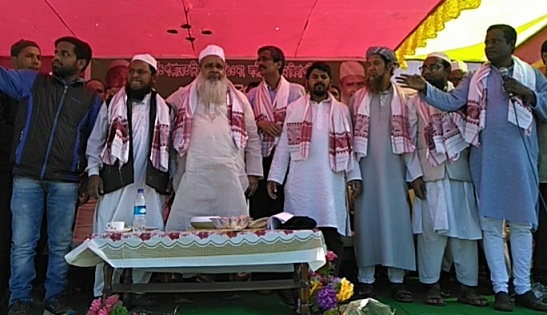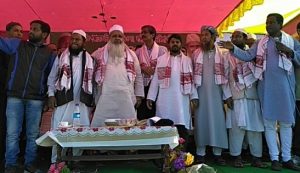 Later, talking to the media present, Ajmal reiterated once again: "For the past three-to-four days, I have seen Himanta Biswa Sarma is speaking nonsense as he is out of his mind. In various rallies, he speaks of me becoming the CM if BJP is voted out of power. He has gone mad for which I would like to rather tell him of leaving BJP and we would support him in becoming the CM."
He added, "It is his long cherished dream of becoming CM even for a day, so I once again on record like to say that even if he returns back to his old party (Congress) and steps forward to be CM, our party would support him."
In all of his statement of extending support, the AIUDF chief also made it clear as to which side he prefers more among the political parties in fray.
Before leaving the venue for his next destination, a hiccup did arise owing to the capacity of passengers that can fly by this chopper. At one point, angered by this predicament, Ajmal even made up his mind of going by road.
After much persuasion by his party leaders, he flew out of the venue for Katigorah, leaving behind a statement that would open up war of words, round two.