Ahatguri, the famed hot-spot of traditional buffalo fights in Assam held on to traditions and organized buffalo fights this year also as part of Magh Bihu celebrations despite ban imposed by the Supreme Court.
Like previous years, Ahatguri, an otherwise sleepy roadside village in Assam's Morigaon district was on Monday, a day after Bihu wore a carnival like atmosphere as a boisterous crowd cheered at enraged buffaloes locking horns in the arena – a sport held annually as part of Magh Bihu celebrations since centuries.
However, the apex court had banned the traditional sport way back in 2014 along with the Bulbuli bird fight that takes place in the courtyard of Haigrib-Madhav temple at Hajo on the outskirts of Guwahati during Magh Bihu festivities and other such animal sports across the country.
Though the Bulbuli fight has been stopped for the last four years or so, abiding by the Supreme Court verdict, the buffalo fight is still taking place.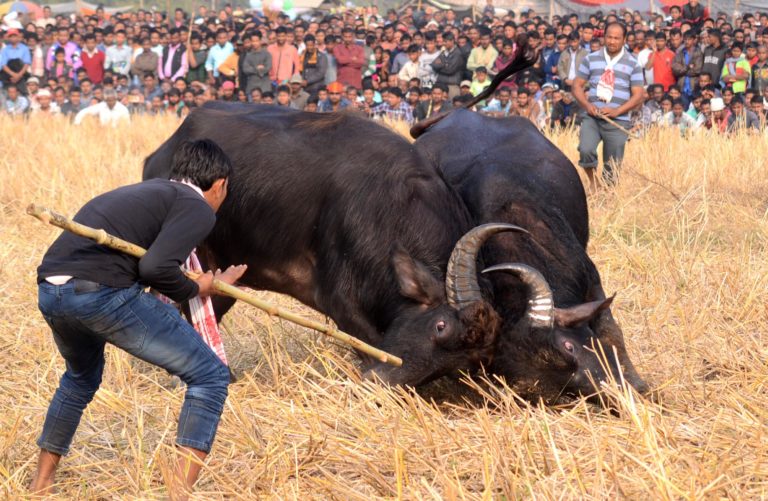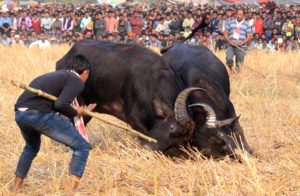 This year also, around 60 buffaloes took part in the fight witnessed by thousands of over-enthusiastic spectators.
Though the sport is not organized by any authorized committee now after the ban, individual buffalo owners indulge in the dangerous sport making it difficult for the administration to stop them.
The stakes are not that high, however, the proud owners of the buffaloes goad and cajole their tamed animals to fight with each other as drums and cymbals rent the air.
Though the fight turns aggressive at times with enraged buffaloes running amok, it is still bonhomie for the spectators. The villagers provide extra nourishment to the buffaloes and keep them away from tilling the land at least a month before the fight.