In a desperate face-saving exercise Assam government has on Tuesday tried to fix its stupendous advertising blunder on Wildlife Week through MyGov Assam twitter handle.
On Tuesday MyGov Assam tweeted, "Assam has rich wildlife. Let's keep it rich, Wildlife Week: Oct 2-8."
Earlier on Monday, in a sheer display of negligence the Assam government issued a full-page advert, featuring a smiling chief minister Sarbananda Sonowal with the one-horned rhinos and other wildlife in all major dailies of the state that stated Wildlife Week is from October 1 to 7.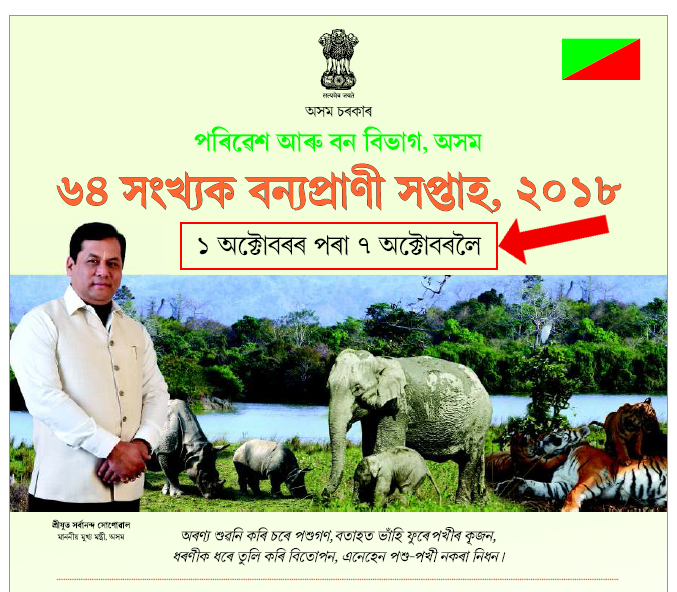 The advertisement has been published by the Directorate of Information and Public Relations under the advertisement number: janasanyog/D/5315/18.
The Principal Chief Conservator of Forests, D P Bankwal, admitted that it was a 'gross mistake' by the media managers of the state government.
"The dates are fixed by the Union Government and no one can change or alter the dates under any circumstances," Bankwal told Northeast Now.
Wildlife Week is celebrated all over the country from October 2 to 8 every year with the view to preserve the fauna means the animal life of the India.
Such a gaffe by the government wasting a huge amount of public money has raised many an eyebrows. Now the question is will the government take cudgel to punish the guilty for such a Himalayan blunder?