Arjun Tanti, his feet crippled due to filariasis has found new hope today with HERS ( Health, Education Rehabilitation Society), a voluntary organization in Jorhat.
They have taken the initiative to rehabilitate him by setting up a shop  so that he could stand on his feet.
HERS, established in 1989 launched National Leprosy Eradication Week on January 30. The launch also coincides with Mahatma Gandhi's death anniversary at the Press Club, Jorhat.
Cash, blankets, clothes, a tricycle and a wheelchair were distributed among three other leprosy affected and two physically handicapped including a child.
Former Joint director Health and founder of HERS doctor Balin Khargharia said that he had found at least 12 cases of filariasis especially in tea garden areas of the district.
"There were also a few cases of leprosy and several were suffering from untreated skin diseases which could degenerate into worse health problems." he said.
Khargharia said that things had changed with multi drug therapy and lepers were no longer sent to separate homes nor were they as stigmatized by society as before.
"Superstition, however, still reigns supreme in rural and tea areas where it is believed that the afflictions are due to bad deeds done in a previous birth or God's curse and the affected are not treated properly. The usual procedure is to offer a Sarai to God or call in a quack or soothsayer to perform some exorcism rites," he said.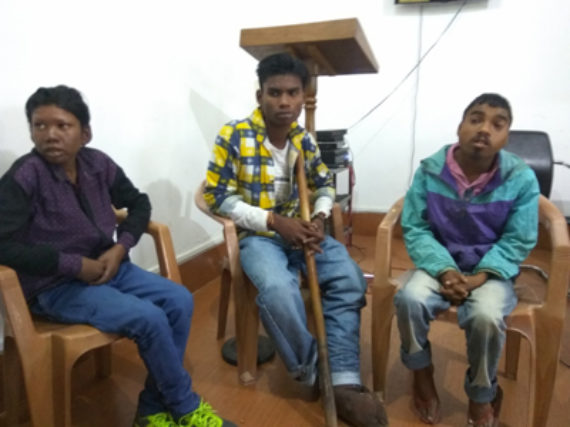 Arjun, now 18, lay similarly unattended since 2008 till he was brought to the notice of HERS by Rofiqul Ali, Head Assistant at neighbouring Sotai Tea Estate.
Ali also brought Munu Karmakar and Ravi Bawri of Jadavpur tea estate, suffering from leprosy to HERS notice.
Sotai has taken Jadavpur Tea Estate which belongs to Dakhinpat Xatra on lease.
Arjun was treated for filaria, a mosquito borne disease and he was able to walk with the aid of a stick. His left foot is still swollen and bloodied.
Manoj Ginoria has provided a cardboard box filled with different biscuits and chocolates to set up the shop with. Bazzari Funde will provide some T-shirts.
A child Rajdeep Gupta of Chenijan Tiniali, Jugibata Road was given a wheelchair by SHEWA, another organization working in the same sphere.
Prahlad Karmakar, a physically handicapped was given a tricycle by SHEWA and cash and clothes by the Phuloni Group   comprising students of the 1965 batch of Jorhat Govt Boys HS and MP School at the same function.
Pranjal Jyoti Dutta, Assistant Professor at Jorhat Medical College and Hospital gave an extensive lecture on various skin problems ranging from hand eczema, ringworms, scabies boils, measles and pox and ways to tackle them stressing on hygiene and immediate treatment.
Khargharia is a Medical Officer for mobile medical units under Hindustan Latex Family Planning and Promotion Limited supported by National Health Mission.