Another person from Dhubri district in Assam has been tested COVID-19 positive on Monday.
State health minister Himanta Biswa Sarma shared the news on Twitter early Monday morning.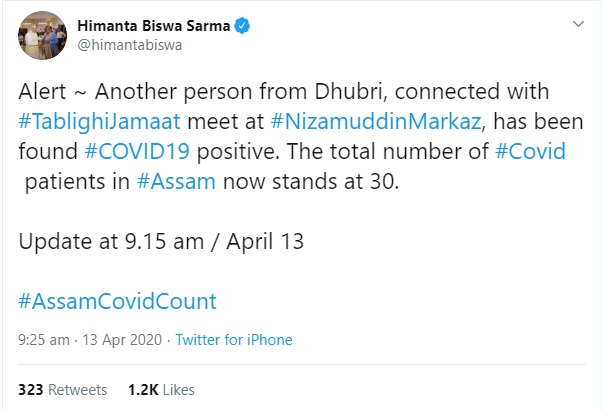 Himanta tweeted:
'Alert ~ Another person from Dhubri, connected with #TablighiJamaat meet at #NizamuddinMarkaz, has been found #COVID19 positive. The total number of #Covid patients in #Assam now stands at 30.'
Notably this person from Dhubri has also attended the religious congregation of Tablighi Jamaat at Nizamuddin Markaz in Delhi.
With this the total number of COVID-19 patients in Assam has gone up to 30.
The State has recorded the first death last week.
This is the second positive case that has been reported from the Northeast in the last 24 hours.
This development has been reported a day after Nagaland reported its first case of the COVID-19 on Sunday.
Manipur and Tripura have reported two cases each, while Mizoram and Arunachal Pradesh have reported one case each.
Meghalaya and Sikkim are the only states from the Northeast which are yet to report a single case of the COVID-19.
Meanwhile, the total number of coronavirus cases in India has now touched the 9,000 mark with the death toll going past 300.
The government is now considering expanding test for coronavirus even to areas that have not reported any cases as of yet.
Four states, meanwhile, have extended the lockdown period till April 30 next.