An FIR has been lodged against United People's Party Liberal (UPPL) president Pramod Boro for spreading misinformation regarding COVID19 cases in India.
The FIR was filed at Kokrajhar police station recently by Suleman Narzary, a resident of Rupathi Nagar in Kokrajhar.
The case has been lodged under Sections 182, 505 (1) (b) of the IPC.
The FIR reads: "Kindly accept this FIR letter under IPC Sections 182, 505 (1) (b) for spreading fake information by Promod Boro, president of UPPL stating more than 30,000 Corona infected persons in India on BODOLAND ?????, the Regional Bodo News Channel, on 5th of April 2020 whereas as of now, 6th April 2020, as per Central Govt. data there are only 4200 plus positive cases in India."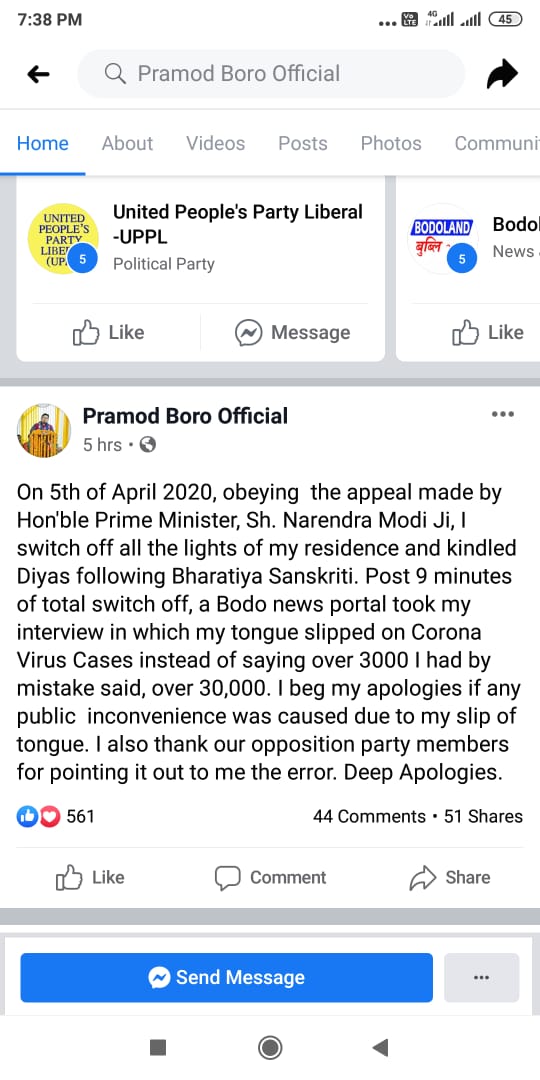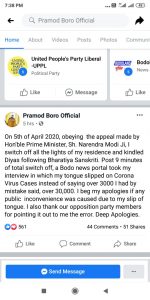 The complainant also said in the FIR: "We are facing a very bad time due to Covid-19 pandemic. The Central Govt and the State Govt. urged people not to make any faulty statements on Covid-19. Here we have Promod Boro, president of UPPL, who is disseminating false information."
Meanwhile, Boro has apologized for the misinformation.
Boro on his official Facebook page on Wednesday said: "On 5th of April 2020, obeying the appeal made by Hon'ble Prime Minister, Sh. Narendra Modi Ji, I switch off all the lights of my residence and kindled Diyas following Bharatiya Sanskriti."
"Post 9 minutes of total switch off, a Bodo news portal took my interview in which my tongue slipped on Corona Virus Cases instead of saying over 3000 I had by mistake said, over 30,000."
"I beg my apologies if any public inconvenience was caused due to my slip of tongue. I also thank our opposition party members for pointing it out to me the error. Deep apologies," he added.
New Doc 2020-04-07 15.46.55 (1)