The transport workers' unions have called for series of chakka bandh in Assam in support of their various demands including implementation of the welfare scheme for the private transport workers proposed by the Assam government.
The series of agitational porogramme includes 24-hour chakka bandh on January 27 (Wednesday), 2021, 48-hour chakka bandh on February 12-13 during the Assam Assembly session.
The transport unions said if their demands are not fulfilled by the Assam government, they will observe chakka bandh for 72 hours again from February 25-27, 2021.
The transport workers unions, which have called for the chakka bandh are All India Road Transport Workers' Federation, Sadou Asom Motor Shramik Jutiya Parishad, Co-ordination Committee of Cab Operators, Assam Petroleum Masdoor Union and North East Heavy Goods Driver and Owners Welfare Association.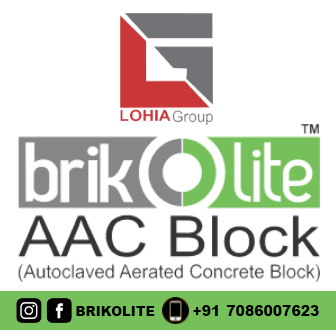 The other unions which have called for the chakka bandh include Indian National Road Transport Workers Federation, All Assam Joint Motor Shramik Union, All Assam Drivers' Union, All Assam Cab Operators Union and Travellers' Association.
The transport workers' unions have also demanded the withdrawal of the anti-farmer agriculture laws.
The unions in a joint statement said the government till date has not made any scheme for the welfare of the transport workers.
"That means, the government has not recognized the service of motor transport workers. Rather it has become a habit of harassing them through new rules and regulations," the joint statement said.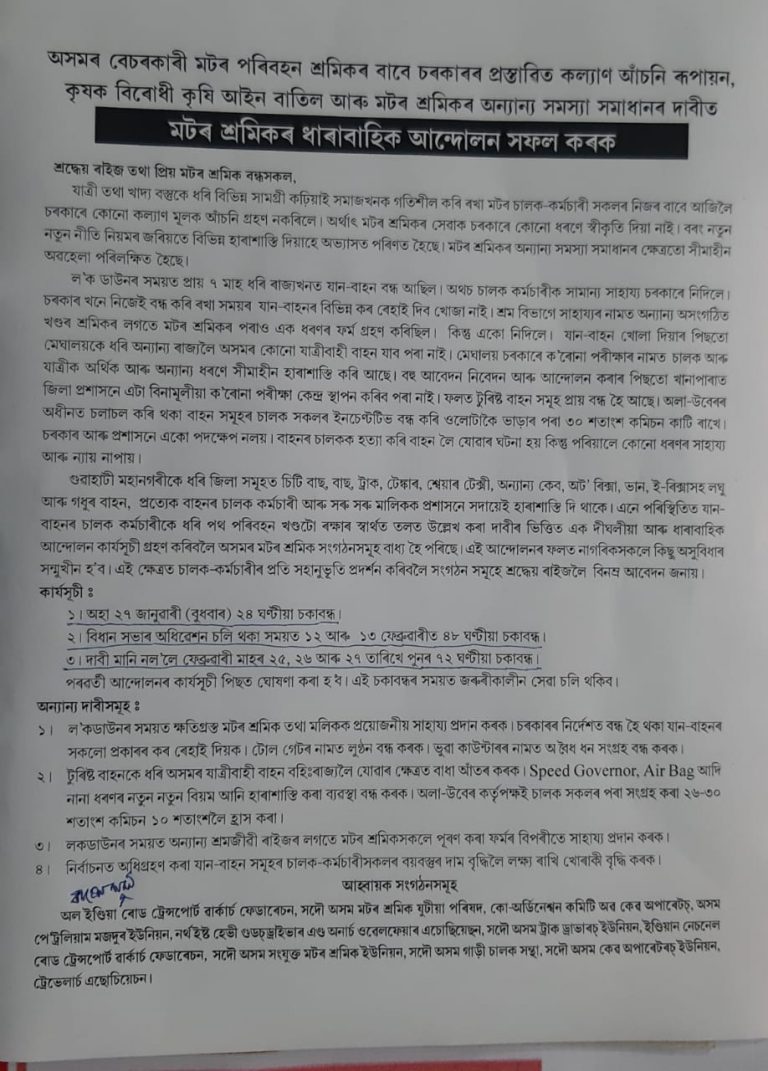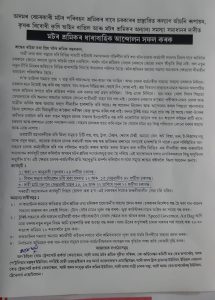 The motor transport unions also alleged that countless negligence has been observed in solving problems of the motor transport workers.
They said during the lockdown, the vehicular traffic was off the roads in Assam for 7 months.
"But the government did not provide any aid to the motor transport drivers and workers. The government is also not ready to waive off the tax of the transport vehicles which it had stopped from moving," the statement said.
"Even after unlocking of vehicles, the passenger vehicles are not allowed to go to various states including Meghalaya from Assam," it said, adding, "In the name of coronavirus, the Meghalaya government has been harassing the passenger vehicle drivers and its passengers."
"Even after repeated appeals and agitation, the district administration has not set up a free coronavirus testing centre at Khanapara," it said, adding, "Therefore, the tourist vehicles have failed to move."
The unions also alleged that the incentives of the Ola-Ober cars are not being paid rather 30% of their commissions are being cut, the statement said.
They also claimed the administration continues to harass the owners, drivers and workers of transport vehicles including city buses, trucks, share taxis, trucks, buses, tankers, cabs, auto-rickshaws, vans, e-rickshaws, light & heavy vehicles running in Guwahati and other districts.
The unions have called for the chakka bandh demanding a solution to their various demands and urged the commuters to extend support towards them.