With an aim to make people aware and disseminate a message on the need of plastic-free environment and to make the surroundings eco-friendly, Voice of Environment, a Guwahati-based NGO launched a cleanliness drive at the historic Basistha Temple here on Sunday.
The NGO has launched the drive with a view to promote the religious tourist spots.
Highlighting the need of plastic-free environment, social worker Hemajit Daudhai Phukan said, "The religious places are directly related to religious tourism. It is the need of the hour to make not only the religious places but also each and every place plastic-free as the global warming is on the rise."
"The religious places have always been attractive tourist spots. So, it is more important to keep these places clean and eco-friendly. This would definitely increase tourists as well as revenue," Phukan said.
The NGO workers appealed to the public for active participation and cooperation in their mission.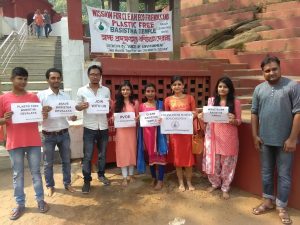 The NGO had signed a Memorandum of Understanding with the Basistha Temple authority on May 27 this year to keep the temple premises plastic-free.
The motto of the drive was 'Clean, Eco-Friendly and Plastic Free Basistha Temple'.
The NGO also organised an open discussion for awareness among the locals of the area in the temple premises.
A large number of students along with the locals of Basistha area joined the drive.
The NGO, with a motto 'Raise our voice for better Mother Earth', works for sustainable development in co-operation with Civil Organization (Local Community, NGOs, Academic Institutions, Private Enterprises) and government departments.