"Nature is our mother and she is in danger. It is high time that we take appropriate action to save her," said noted wildlife film-maker and environmentalist Dr Mike Pandey while addressing the gathering during the inaugural session of the eighth National Science Film Festival at the P D Hall of Gauhati University.
He also emphasized on the importance of each and every organism in maintaining the ecological balance and the role of science films in creating awareness. Dr. Mike Pandey graced the occasion as guest of honour.
The five-day film festival is being organized by Vigyan Prasar, DST, Government of India in collaboration with the Department of Communication and Journalism, Gauhati University.
Speaking on the occasion, Nimish Kapoor, festival director and head of the science films division said, "We must think and act scientifically for all round development. Promoting scientific temper is one of our fundamental duties as mentioned in the Constitution of India. We had started the journey of National Science film festival in 2011 when we had to try hard to get movies but now we receive numerous movies from across the country and abroad which is a great advancement."
Dr Mridul Hazarika, Vice Chancellor of Gauhati University in his presidential remarks said, "Imagination of each individual is multifaceted and it is shown in the movies. More number of movies will take scientific temperament to a newer height."
Speaking on the occasion, Prof Shambhu Nath Singh, Director of School of New Media Studies, IGNOU, New Delhi said, "Science films can simplify the concepts of science and help in communication to the common people. Choosing a university as the venue of the event was the best decision because universities host young minds that are the future of the nation."
Prof Manoj Kumar Patairiya, Director of CSIR-NISCAIR, New Delhi while delivering the Keynote speech said, "This festival has brought together a galaxy of science communicators and there would be enormous exchange of ideas. Surely many new ideas will emerge in the process."
Also read: Guwahati to host 8th National Science Film Festival of India from February 20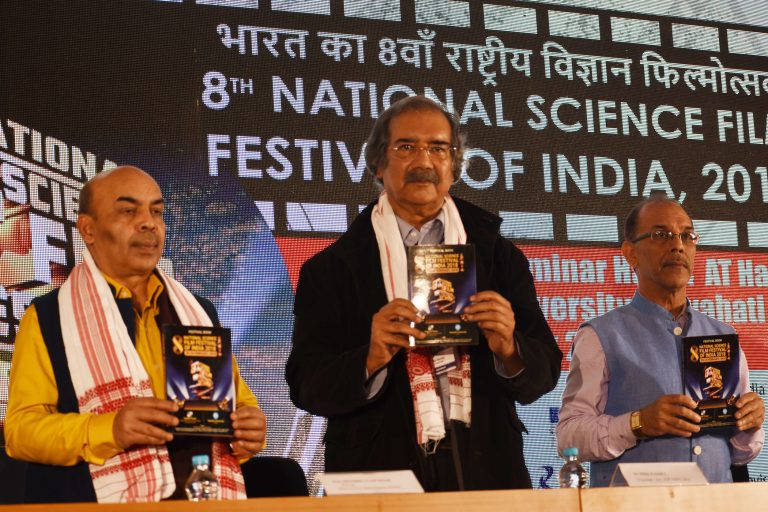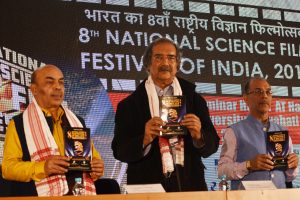 The NSFFI Festival Book was also released in the inaugural ceremony.
On the first day, 16 competitive films- Category A has already been screened along with two master classes and one panel discussion successfully. Altogether 82 shortlisted films under five categories that include the films sponsored by government and non-government institutions/ organizations, films made by independent filmmakers/ production houses, films made by college students, films made by school students and films from other countries will be screened respectively in NSFFI 2018. Moreover, 17 foreign films from the countries like US, UK, Germany, France, Italy, Norway, Switzerland and South Korea will be screened in the following days.
Around 300 filmmakers, as well as students of different institutes from all around the country and abroad are participating in this mega event.