Assam Chief Minister Sarbananda Sonowal on Monday urged the teachers and parents to unleash joint efforts to groom the students with discipline and robust moral character.
Sonowal made this call while speaking in a meeting held at Bindhakata High School under Chabua LAC in Dibrugarh district on Monday.
He also emphasised similar initiatives in all the districts of the State in a bid to produce good human beings.
Moved by childhood memories, nostalgic Sonowal also recalled his primary school days in Mukulgaon LP School and Bindhakata ME School during his speech.
The State Education Department already closed down these two schools along with Boragadhoi LP School and amalgamated the same with Bindhakata High School where Sonowal took part in the meeting.
While Sonowal pursued his primary education from Mukulgon LP School, he studied Class V at Bindhakata ME School.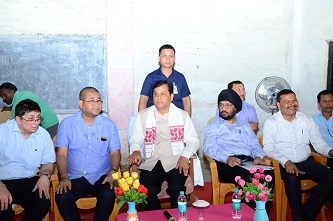 Moreover, in a bid to preserve the cherished legacy of Mulukgaon LP School and Boragadhoi LP School, Sonowal announced that one Skill Development Centre and a library would be set in the schools.
He also informed that various infrastructure development related works would soon begin at Bindhakata High School with Rs. 3 crore financial assistance received from NABARD.
While calling for dedicated engagement of teachers with students for better understanding of their potential and challenges, Sonowal impressed upon the teachers to carry out regular informal dialogue with students.
He also urged the teachers of Bindhakata High School to serve the students with commitment and orient them with modern and latest scientific developments.
Sonowal also assured to look into matters relating to upgrading Bindhakata High School into Higher Secondary level and various issues of the teachers.
Stating that the State Government during last two-and-four months worked with integrity and earnestness to establish good governance and providing people with dignified life, the Chief Minister said that development was severely hit during the time of previous Government due to rampant corruption, indiscipline and lawlessness.
Further referring to the uncompromising stand of the present Government against corruption, he asserted that its tirade against corruption would continue to weed out this social menace from the entire government machinery.
Claiming that revolutionary changes have swept the nation during last four years under the visionary and dynamic leadership of Prime Minister Narendra Modi, Sonowal said that wind of that change has also touched Bindhakata area.
He also mentioned about various development initiatives being undertaken in the area including infrastructure development of the historic Bindhakata Bor Namghar, setting up of Kalaguru Bishnu Rabha Sports and Cultural Complex and Sri Sri Anirudha Dev Sports University to be set up at Chabua.
MLAs Rituparna Baruah and Binod Hazarika, CEM of Sonowal Kachari Autonomous Council Dipu Ranjan Makrari, Commissioner & Secretary, Primary Education Pritom Saikia, Secretary, Secondary Education Samsher Singh, MD SSA Aruna Rajoria, Deputy Commissioner Loya Madduri and other dignitaries were present in the meeting.