Arunachal Pradesh Governor Dr B D Mishra on Wednesday impressed upon the students of the Jawaharlal Nehru College (JNC), Pasighat to prepare themselves for the future challenges and sustenance.
Interacting with the students during his visit to the JNC, the Governor emphasized that students must instil knowledge and proficiency to go for entrepreneurship and self-employment.
Stating that 1962 must not be repeated, the Governor exhorted the students, including the girl students to join the Indian armed forces.
The Governor said there will be pre-recruitment trainings and coaching conducted by the Indian Army and that all the youth must avail it.
He asked the National Cadet Corps (NCC) in-charge of the College, Captain (Dr) KK Mishra, lecturer in the department of Geography to motivate the cadets and also other students to join the Army.
The Governor also advised the students to volunteer and to see that every child gets an opportunity to be educated.
Visiting the college library, the Governor assured to provide books to the library, provided that the list of books required is forwarded to him by the committee of faculty.
He was accompanied by his wife Neelam Misra, East Siang Deputy Commissioner Tamiyo Tatak and Superintendent of Police, Prashant Gautam.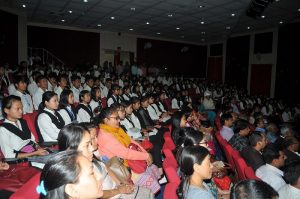 Earlier, the Governor visited the Government Polytechnic College, Pasighat and met the students and faculty.
The Governor also visited the College of Horticulture & Forestry, Pasighat.
Interacting with students there, the Governor exhorted the students to go for research projects, which would facilitate in the development of the people, society, state and the nation.
He said there are many programmes and schemes in the agriculture and horticulture sectors and the students of the institute must assist the people in implementing it in scientific manner.
Encouraging the students towards innovations and to 'think out of the box', the Governor advised them to add something new, which will be beneficial to the agrarian community and is an organic method.