The craze was more than the World Cup football when enthusiastic locals thronged in thousands at the opening of Big Bazaar in Dimapur of Nagaland on Saturday.
These few thousand people thronged the venue several hours before the inauguration and later literally swamped the mall till late Saturday evening.
The Big Bazaar outlet in Dimapur was inaugurated by Nagaland Chief Minister Neiphiu Rio at a brief ceremony.
Addressing the mammoth crowd, Rio used the occasion to extend invitation to outside investors to do business in Nagaland and assured them of full protection and support under the present government.
Rio emphasized on the role of people and other stakeholders to create a conducive environment for peace and progress in order to instill confidence among outside investors.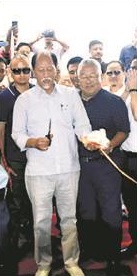 Rio reiterated that business could flourish only when 'social tranquility' exists to encourage more companies to invest in Nagaland market.
Rio further said that with emergence of private companies taking interest in Nagaland, it would not only help the business community to thrive but would also provide employment opportunities to local unemployed youths.
Dubbing Dimapur as the 'commercial capital' of Nagaland, Rio expressed happiness that a trend was being set by big companies which have started to make their presence felt in the city.
Rio also lauded Nibu Nagi, one of Nagaland's prominent businessman and entrepreneur who is also the owner of the property where Big Bazaar has set up its Dimapur outlet.